Closeup of SAL Electronics SE-3824-GP mount (underside view).
SAL Electronics SE-3824-GP Ground Plane adaptor shown with a stud mount VHF whip installed.
SE-GP3824 Ground Plane Kit Top View
Hours: Monday - Friday
9:00 AM to 5:00 PM (CST)
Specifications:
Assembled Weight:
Mounting Clamp:
Antenna Mount:
Cable Connector:
Wind Survival:
Assembled Height:
Assembled Width:
Hardware:
Mounting clamp:
Screws and Nuts:
Mounting Plate:
Radials:
1.0 lbs.
1" to 1-1/2" OD pipe
3/8"-24 stud mount
UHF Female (SO-239)
125 MPH, 70 MPH with 1/2" radial ice
13-1/2"
20" (32" diagonal)
Zinc Plated U-Bolt
18-8 stainless steel
6061-T6, 0.09" one-piece aluminum
3/8" OD, 6063-T832 hard drawn aluminum
$46.00 SE-38-GP (UHF Connector)
© 2010 - 2018 - SAL Electronics, LLC, Algonquin, IL 60102
(Includes free shipping to CONUS)
SAL Electronics, LLC
The Antenna Store & More
SE-3824-GP: 3/8"-24 Stud Mount Ground Plane Kit (Antenna not included)
SAL Electronics' heavy-duty Ground Plane made from 6063-T832 hard drawn 3/8" aluminum tubing for permanent or temporary installation. Ground Plane elements are fiberglass filled at the top side to prevent moisture intrusion, plus adds greater mechanical strength for the mounting hardware. Element ends are fitted with UV resistant vinyl caps to prevent moisture, and to provide protection to tabletops when used indoors as an emergency antenna. The SE-38-GP is equipped with an SO-239 (UHF Female) connector. Add any VHF/UHF mobile antenna having a 3/8"-24 stud, to make a fixed station or temporary station antenna.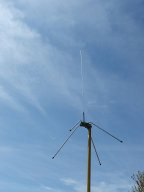 Vinyl end caps keep moisture out, and also provides mare-free surface support for tabletop mounting. (Shown with stud mount VHF antenna.)
Heavy-Duty zinc plated steel U-bolt. Accepts mast from 1" to 1-1/2" OD. (Shown with a 3/8-24 stud mount antenna installed , not included.)
Fiberglass filled ends to keep out moisture while adding mechanical strength for the mounting hardware.
Heavy one-piece 6061-T6 aluminum mounting plate.