Detail showing mast mount and antenna connector.
SE-6H 6 Meter Halo Antenna.
SAL Electronics, LLC
The Antenna Store & More
Hours: Monday - Friday
9:00 AM to 5:00 PM (CST)
SE-6H: 6 Meter Halo Antenna
The SE-6H, 6-Meter Halo covers 50 to 52 Mc. at 1.5:1 or less VSWR. Heavy Duty construction that allows 120 MPH wind survival with 1/2" radial ice. Halo antennas are great for net control operators and for beacon operation, where an omni directional pattern of operation is desired to reduced the need to swing a directional array to make a contact. The SE-6H is constructed of aluminum, fiberglass, UV resistant PVC, and stainless steel components for years of trouble free operation. The SE-6H is designed to be mounted horizontally for CW/SSB operation, and is equipped with a direct DC ground for effective static dissapation. Built for fixed station use, the SE-6H can also be used for portable or rover operation. Mast mount is designed to accept sizes between 1" to 2" OD. May be stacked with a phasing harness for higher gain (+3 dB) fixed station applications. Equipped with a SO-239 (UHF Female), or an optional Type-N connector.
SE-6H formed from a folded dipole antenna.
Closeup showing mast mount and connector interface.
Specifications
Electrical:
Frequency:
Gain:
Maximum VSWR:
Power Limit:
Impedance:
Polarization:
Mechanical:
Boom Length:
Assembled Weight:
Mounting Clamp:
SQ. Surface Area:
Cable Connector:
Wind Survival:
Element Width:
Element Depth:
Turning Radius:
Hardware:
Mounting Clamps:
Screws and nuts:
Boom:
Elements:
50 Mc. to 52 Mc.
2.15 dBi (0 dBd)
1.3:1 (50 Mc. to 52 Mc.)
1,000W PEP
50 ohms
Horizontal
29 inches
3.5 lbs
1" to 2" capacity
0.5 sq ft Horizontal
SO-239 (UHF Female), Type-N female optional
120 MPH with 1/2" radial ice
33.75"
29.25"
21.5" Horizontal
Zinc Plated
18-8 stainless steel
29" x 1", 6061-T6 x 1/8" wall
3/8" & 1/2", 6063-T832 double drawn aluminum
SE-6H-U, 6 Meter Halo Antenna, UHF Connector
SE-6H-N, 6 Meter Halo Antenna, Type-N Connector
Typical VSWR (RED Line) of SE-6H Halo Antenna between 50 Mc. to 51 Mc.
© 2010 - 2017 - SAL Electronics, LLC, Algonquin, IL 60102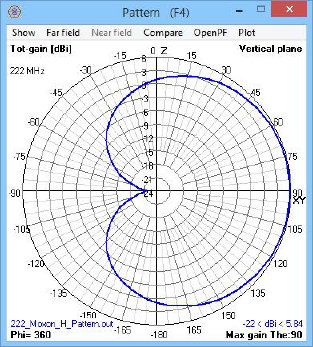 (Orders over $50.00 includes free shipping to CONUS)
NO International orders accepted for this item.