SE-10 MB: 10 Meter Moxon Beam Antenna
Hours: Monday - Friday
9:00 AM to 5:00 PM (CST)
SAL Electronics, LLC
The Antenna Store & More
The SE-10MB, 10-Meter Moxon Beam covers 28 to 29.7 Mc. at 1.5:1 or less VSWR, has a 2" square boom, and a slightly smaller Driven Element bracket to save weight for rooftop installations. The SE-10MB is field tunable for lowest VSWR anywhere in the 10 Meter band. Construction allows for a 120 MPH wind survival with 1/2" radial ice. The SE-10MB features a 1:1 Maxwell ferrite choke balun that provides blockage of RF down the transmission line. Constructed of aluminum, fiberglass, UV resistant PVC, and stainless steel components for years of trouble free operation. The SE-10MB can be mounted horizontally for best CW/SSB operation, or it can be mounted vertically for FM operation, STANDARD. Designed for fixed station operation. May be stacked with a phasing harness for additional gain (up to +3 dB) for fixed station applications. Equipped with a SO-239 (UHF Female) connector at the end of the choke balun.
SE-10MB Moxon Horizontally Mounted
SE-10MB Moxon Vertically Mounted
1.75" mast clamp with 2" square U-Bolts for horizontal or vertical mounting
2.0" 6061-T6 square aluminum boom.
Horizontally mounted SE10MB Moxon beam antenna.
Vertically mounted SE10MB Moxon beam antenna.
Closeup of SE10MB Moxon mounting clamp.
Specifications
Electrical:
Frequency:
Forward Gain:
Front-to-Back:
Maximum VSWR:
Power Limit:
Impedance:
Polarization:
Mechanical:
Boom Length:
Assembled Weight:
Mounting Clamp:
SQ. Surface Area:
Cable Connector:
Wind Survival:
Element Width:
Element Depth:
Turning Radius:
Hardware:
Mounting Clamps:
Screws and nuts:
Boom:
Elements:
Balun:
28 Mc. to 29.7 Mc. (1.5:1 VSWR or less)
5.98 dBi (3.8 dBd)
-33 dB (Horizontal)
-22 dB (Vertical)
1.7:1 (26 MHz to 32 MHz)
1.5KW PEP
50 ohms
Horizontal or Vertical
63-1/2 inches
11 lbs
1" to 1-3/4" capacity
5.0 sq ft Horizontal
5.8 sq ft Vertical
SO-239 (UHF Female)
100 MPH with 1/2" radial ice
108" (28.4 MHz)
62"
78.5" Horizontal
36.0" Vertical
Zinc Plated
18-8 stainless steel
2.0", 6061-T6 x 1/8" wall
5/8" & 1/2", 6063-T832 double drawn aluminum
1:1 Maxwell ferrite choke balun
$190.00 SE-10MB, 10 Meter Moxon Lite with UHF Female Connector
4NEC2 calculated radiation pattern for the SE-10MB
Blue = Horizontal Azimuth Pattern
Measured VSWR sweep of the SE10MB Moxon Lite beam antenna between 27.5 MHz and 30 MHz. VSWR is 1.5:1 or less between 28 and 29 MHz.
4NEC2 calculated azimuth pattern for the SE10M Moxon beam antenna.
© 2010 - 2018 - SAL Electronics, LLC, Algonquin, IL 60102
(Orders over $50.00 includes free shipping to CONUS)
NO International orders accepted for this item.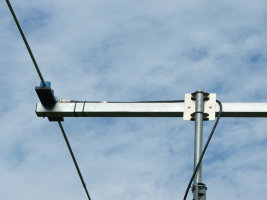 Typical SE-10M VSWR plot. VSWR bandwidth is less than 1.5:1 from 28 MHz to 29 MHz.